Unwanted visitors - How to deter foxes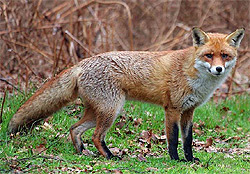 Red Fox - Vulpes vulpes
picture published under GNU Free Documentation License, Version 1.2
Why deter foxes? Like some other wildlife that frequents our gardens from time to time, foxes are fabulous if a rarity, but can be a real nuisance if they get too over-familiar.
They can dig up plants, tear up lawns and make a mess in the way that dogs do. They are very territorial and have a regular "round", so they probably see you as as much of a problem on "their" territory as you see them on yours, the longer they've been around, the more settled they are and the more difficult to dislodge.
Coleus canina - Pee-Off / Scaredy Cat
First of all make your garden unwelcoming for them:
Don't put food out for the birds for instance unless it's on a high difficult to get at bird table.
Don't leave dustbin bags out in the open, get some kind of fox-proof container for them.
Don't use "blood, fish and bone" or bonemeal fertilisers, use seaweed-based fertilisers if you want to be organic, otherwise use manufactured chemical fertilisers.
Check your garden fence or hedge for gaps where they're getting in and close them off. They may find somewhere else to get through or may just take an easier route avoiding your garden altogether. They are particularly good at squeezing under gates.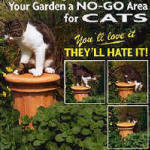 Coleus canina - Pee-Off / Scaredy Cat
Intended to keep cats away, but effective with foxes too.
Best planted in containers, that way they'll grow quicker to an effective size and you'll be able to move them around and experiment with the best place to put them. I found out recently that over 9 million plants were sold across Europe in the first two years of it being available!
Repels cats, dogs, foxes and rabbits.
Best inserted amongst other plants as they are "functional" rather than pretty.
Renardine, proprietary chemical repellant
Six pests banished by one repellent. Unique MAFF approved repellent, which keeps unwanted cats, dogs, rabbits, foxes, moles and badgers away from gardens, small holdings etc. Used as directed, renardine is safe and harmless and has been in continuous use since 1896.
I have grown coleus canina for several years on the corners of the front of my property, tucked into a perennial bed near the roses. I bought it as "Dog be gone," and it is also sold as "Bunny be gone," so must work on rodents.

Because the leaves are fleshy, like a succulent, it takes rather arid conditions and can live in full sun, unlike any coleus I've seen. (I live in Southern California, USA and we get summer weather of over 100 degrees F for up to a week at a time)
It spreads somewhat freely but not with long runners like my favorite pest plant, common mint. Spreading does not occur unti

l it is established. I end up trimming back the edges, like a stand of dusty miller, to keep it within the three foot circles I have given it. I've lost it twice, due to garden makeovers, but it comes back very easily from cuttings.
Dogs cannot stand it, and "snufft" when they put their nose in.

It smells much stronger than marigolds when bruised. It should be put somewhere that won't receive constant touching by legs or feet passing by.

Because the leaves are not variegated, just medium green, the four-inch long, 3/4 in wide, fleshy bright purple flowers, which are very unusual, are attractive in a Mars landscape

sort of way. They are unlike other coleus I've seen. I get good comments from passersby every year, as though I made them unusual and not God. Because of their blooms I keep them, but because of their smell they definitely should not be something one would put at the back door!

Christine Gille

About the coleus canina: IT WORKS!!! I tried it, and in a few days, no more cats and dogs around my patio!
Claude, Quebec

Hi Tech

Ultrasonic and motion sensor devices that make a noise inaudible to humans or spray water when something moves into the range of the device - very effective so I've heard.

Pest-Stop Outdoor Pest Repeller - £39.99
A pest repeller that is designed to keep your garden clear of unwanted visitors, such as rats, cats, squirrels, rabbits, foxes, badgers and deer. There are three different settings so you can set it to the sound frequency you want. The high frequency setting is used to repel rats but is also effective against squirrels and cats, medium frequency for cats and small dogs, and low frequency for larger dogs, foxes, badgers and deer.

The repeller comes with a wall/fence mounting adapter and rod adapter for placing it on a pole. It is battery operated (4 x D Cell batteries), with option to run it off a 12c AC/DC adapter. Coverage approx 70ft x 50ft in a fan shape from the unit.