Sustainable Consumption is:

"Enjoying a good quality of life while consuming fewer natural resources and polluting less".
UN Environment Programme
Calls to consume in a more responsible manner generally fall on deaf ears, only about 5% of people in developed countries make the effort to do so voluntarily, there has to be a reason for people to consume sustainably for them to make the effort. Here is a list of some things you can do that are "green" things to do, and also have an extra benefit for yourself too, usually in terms of saving you money - now there's a reason to do things!
Tap water and the great bottled water swindle

Older readers will recall that when ordinary people started to travel abroad more from about the 1970's onwards, they would come back usually from France or Spain with tales about those wacky foreigners who had to go out and buy drinking water in bottles and cart the heavy things back home instead of just getting it from the tap - what a laugh we all had!
Then somehow, little by little starting with Perrier in the 80's with fizzy water, then going to still, then going to less "premium" brands, we are in a position now where we are doing what we thought was so ridiculous 40 years ago. The reality of course is that it still is ridiculous, but somehow we don't think it is anymore.
Britain's tap water is amongst the cleanest and healthiest in the world (lots of dependable rain helps) and is kept that way by a whole host of EU laws. If you want it to be even cleaner, you can get a filter jug, or for greater convenience a water filter under the sink so it comes straight out of the tap super-filtered, though these steps are not necessary.
Mains water filters Water filter jugs
Good for me

Freshly filtered, doesn't sit around in a bottle for months on end (or longer)

MUCH cheaper than bottled water

No more carrying big heavy bottles of water from the supermarket

Good for the environment

No fossil fuels consumed in transporting bottles of water to and from the supermarket

No one-trip plastic bottles needed (by the billion!)
Buy organic food - even grow it yourself

Organic food is food that is grown without man-made chemicals such as pesticides and fertilisers. It also means no human waste, or sewage sludge, has been used on the fields and that no ionizing radiation or food additives were used in their production. Organic meat has been reared without the routine use of antibiotics and without using growth hormones.
Organic food doesn't need to be bought from the supermarket and is much more widely available than imagined. "Vegetable box" schemes are popular ways of getting organic food whereby you buy a box of veg that is delivered once a week or so of whatever veg is in season.
Organic food often has a price premium over non-organic, which is more reason to grow it yourself if you have the space. I don't see the point of struggling against the slugs and weather to get a crop of lettuce that I can't possibly eat quick enough at the time when they are at their cheapest in the shops. Instead you could try lollo rosso, rocket and especially cut-and-come-again salads and tomatoes which are never as great as directly from plant to plate in minutes or plant to mouth in seconds.
Other ideal vegetables to grow are beans which are easy and don't travel well so the ones in the shops are never as good or as fresh as home grown. Broad beans are good as are French beans and very easy too. French beans don't need all the long canes that runner beans need, but wait until early May before sowing them outdoors. They can be started off earlier if you like in 3" pots in an unheated greenhouse.
I also go for spinach because I like it in salad better than any other leaf (apart from watercress, but I don't have the appropriate flowing watercourse).
Good for me

Food that is not contaminated by any chemicals I'd rather it didn't have

Tastes better, though this is usually more a case of the varieties used than being organic itself. In reality it often works out more tasty as only the best varieties of plant and animal are grown in an organic manner


Growing your own:

The absolute freshest fruit and veg
Much cheaper than buying it
Satisfaction in your gardening prowess

Good for the environment

Less chemicals out there, which has a direct effect reducing the amount in circulation

Also very biodiversity-friendly as there are no "blunderbuss chemicals" that kill everything in their path and not just the pests


Growing your own:

No transport costs at all
Less demands on land elsewhere
Ready meals - don't do it!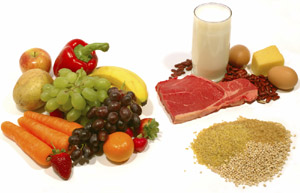 Our busy lifestyles mean that we have been sold the idea that we have no time to properly cook or prepare food anymore. We arrive home late, exhausted and unable to do anything other than take a packet of something exotic sounding from the fridge - barely able to press the microwave start button before slumping semi-lifeless in front of the idiot-lantern.
OK - 'fess-up time, does that really apply to you, or is it more like a case of can't be bothered? Even if you don't have much time, it doesn't take long to cook proper food and it doesn't need to be exotic. We are lucky in that in Britain many of our raw ingredients, fruit, veg and meat are of a high quality. There is a school of thought that says that the reason British cuisine never reached the height of those in other countries is that as we have always had access to the best quality ingredients, we never had the need to develop complex ways of cooking them to compensate for their relative mediocrity.
Why are ready-meals not good?
Lots and lots of packaging


Often twice cooked, energy inefficient and too much cooking removes flavour


May contain additives you could do without


Frozen meals require extra resources to keep them chilled or frozen in transport and storage


Do you really like them? Go on be honest - they're not that nice really are they?

What's the alternative? - This is for the unconverted, if you already cook from scratch (or thereabouts) you're already there.
Quality ingredients simply cooked


Roasting a chicken will take you about 15mins effort for instance, it will take the chicken a couple of hours or less, but that's your own time. You don't need the full roasted accoutrements, lots of other simple things you can do with it instead.


We are whitewashed in particular by TV chef's talk of complex and subtle combinations of flavour, there is no more complex flavour than a fresh piece of fruit, veg or meat on its own. Remember to get quality ingredients. Many ready meal sauces are not only needlessly complex, but have flavourings that are needed to compensate for the less good ingredients and the fact that it's sat around for who knows how long waiting to be cooked - and why do any carbonara-types always repeat on you in a most unpleasant way for hours afterwards?
Good for me

Tastes better, food that is in better condition and has less preservatives

Probably healthier as you know exactly what has gone into what you are eating

Good for the environment

Less energy used in preparation as the food is cooked once, not twice

Much less packaging, ready meals are one of the most over-packaged goods in the supermarket

Less energy used in transport, prepared food in all that packaging that is largely air take up far more space meaning more lorries to ferry them about
The big three uses of power for most of us are transport, cooling / refrigeration and heating our houses. Reducing these three by a relatively small amount each will have a significant effect on our personal carbon footprint.
For more details see this page on Green Living - Reduce Your Carbon Footprint
Good for me

Save lots of money from a more efficient fridge (the biggest single power user in your house over the year)

Save lots of money by insulating your house and making the heating more effective in winter and air conditioning more effective in summer.

Gain the affection of small children and the respect of grown men and women by dumping the 4 x 4 and getting a proper car instead of a small bus. Save money in fuel costs, and road tax too.

Good for the environment

Lots less carbon dioxide pumped out into the atmosphere - that's it - BUT IT'S A BIGGIE!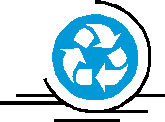 It's becoming easier and easier to do this as many councils are providing recycling bins with the usual landfill bin. Put garden refuse that is too large for you to handle into the compost bin if you must, but it's better to make and use your own compost
Other stuff you should be recycling at the minimum:
Many can be disposed off at a nearby out of town (or maybe even in town) supermarket car park.
Further steps:
ebay - sell stuff you would otherwise bin

freecycle - give away and get stuff you would otherwise bin or have to buy
Good for me

Get money for unwanted stuff, or other stuff you want either cheaper or for free!

More contentious is that the fact that many councils are now collecting landfill waste less often, so if you don't segregate properly, you'll need to go to the skip to take the stuff that doesn't fit into the bin any more. Segregate recyclable waste properly and you won't have to do this.

Good for the environment

Lots less carbon dioxide pumped out into the atmosphere as much less energy is needed to recycle aluminium and glass in particular compared to making it as new

Less mining with associated spoil and environmental degradation needed as less raw materials needed

Recycling something intact saves ALL of the energy and resources taken to make another one as only one is made instead of two
Good quality just about anything lasts longer than low quality just about anything. This means that while it will probably cost more in the first place, it will last longer and do the job better during its lifetime.
There is the problem that we live in a throw-away culture with rapidly developing technology and while it may have been perfectly acceptable that a TV bought in 1975 was still going strong in 1995, these days technology is changing so quickly that we would probably want to replace our 2005 TV by 2010 as they get bigger, thinner and better.
There are still areas where quality counts though and is appropriate, here are a few:
Tools - buy quality "professional" tools rather than the cheapest diy versions. Professional quality tools could well end up being handed on to your offspring, while the cheapest ones may break on their first or second outing.


Shoes - no not so much fashion shoes, but business shoes for work, especially for men where classic styles are likely to be the same ones in 20 years time. I find if I buy quality men's shoes with a leather sole, I can get them re-soled twice before the cobbler can't do anything any more and they are just so comfy for that much longer while looking great at the same time.