Note, these pages are written with the UK in mind, this equates with zones 8-9 in the USA

The cheapest herb plants available these days are often from your local supermarket. They're sold in pots of what are basically overgrown, over crowded plants that should have been pricked out long ago. This doesn't matter of course if you're going to pick all of the leaves and throw the rest away.

With a little bit of effort however it is possible to make a pot of herbs last for months on end and keep a fresh supply on the kitchen windowsill all summer for the price of one pot.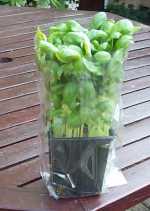 Here's one of my favourite herbs, basil, as bought from the supermarket in its cellophane wrapper. This 7cm square pot cost me 79p.

Take the herbs out and remove the pot. You will have around 40-50 individual plants each of which are very leggy and not what you would use normally.

Take another 2 pots however of the same size and some potting compost.

First of all split the roots and compost in two equal halves by pulling apart gently. Take one of these halves and split it again.

Take one of these quarters and split it carefully so as not to damage the delicate stems that are probably intertwined by now, into three of four clumps of a few (3-4) plants each.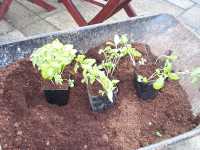 Take each of these mini clumps and place one into each of the corners of a new plant pot. Fill in the gaps with potting compost.

You will have two pots that are sparsely filled and should have one large clump left of half the original pot size. Split this into two halves and place the two halves into the original pot in opposite corners filling in the gaps with potting compost - harlequin style with opposing corners either with plants or compost.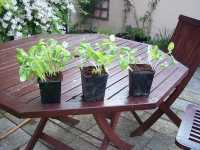 The end result is three pots of herbs of different densities from the original one. Water them well and place onto a sunny windowsill.

Leave for a week or so before you begin to pick them and pick first from the densest pot. When this has been decimated, leave it some time to recover and move onto the next densest which should have put a fair amount of growth on by now, then eventually move onto the last.

Remember to water well and feed as you would house plants. If you put the plants on the sunniest windowsill possible, then you will have a good supply for months on end. Herbs always do best in full sun, and varieties like basil in particular need full direct sun to develop their best flavour.
Picking herbs
When gathering herbs, treat it like pruning the plant. You'd never prune by removing leaves and leaving a naked stem so apply the same principle to your herbs and you'll be rewarded with more and more leaves to pick and better looking plants.
Depending on the variety, try to pick whole or part stems that you then strip of leaves. Cut the stem at a point where there are emerging side-shoots. Basil has side shoots at leaf junctions and so tolerates leaf stripping to some degree, whereas mint doesn't and responds better to having whole stems cut at about ground level.
Supermarket pots are fine, but its not the same as popping out to the garden to cut herbs from a long lasting bush that you've nurtured.
Many herbs can be grown easily and quickly in a small space. But don't forget about the many useful perennial herbs that take no trouble to grow, look wonderful and add a huge amount to the potential of the kitchen.
Even the largest perennial herbs can be grown in a small garden because they tend to do their growing up rather than out and the nature of a herbaceous perennial is that it can be dug up each winter, chopped up, reduced, divided or merely replanted without showing the slightest sign of distress the following April when it starts to grow again.
---
Mint

Mint is something of an exception as it "grows like a bugger" as my grandad so eloquently put it, meaning that it has a habit of spreading into every nook and cranny once it gets going. The customary advice is to plant it in a bottomless bucket sunk into the ground. I've never tried this and quite honestly can't see it working too well. Mint spreads admirably over surfaces, a wind battered stem will root where it touches the ground and shallow roots will soon creep over the bucket rim. I also have faith in the ability of mint to grow down under the bottom rim of the bucket and escape that way.
Better to grow it in a (large) container or curb its enthusiasm by planting it in a difficult spot in the garden. Where other plants may die or sulk miserably mint will be somewhat chastised but soldier on regardless.
There are many types of mint to try, applemint ( Mentha suaveolens ) and spearmint ( Mentha spicata ) are the most useful for everyday purposes. Have peppermint ( Mentha x piperita ), if want to make peppermint tea. There are lots of other types if you have the space such as pineapple mint, lemon mint, basil mint, eau de cologne mint, curly mint and mountain mint.
Buy Mentha / mint
---
Fennel ( Foeniculum vulgare )
is a Mediterranean herb that naturally seeds itself in very dry, sunny spots in poor soil, popping up in gravel paths, between bricks and cobbles and even on walls. The leaves can be laid over a fish before grilling or baking, but the plants real herby brilliance is from its seeds. These are produced in great abundance in late summer after the mass of flowers are over. Florence fennel used as a vegetable is a different thing altogether (though bred from the herb).
Buy herb seeds
---
Chives
are an incredibly easy to grow and useful herb. They are so easy to grow from seed it's almost a wonder they don't germinate in the packet and are another candidate for the supermarket pot treatment above. If you let a plant establish itself, you can divide it annually for ages. Throw away the old centre of the plant and replant the outsides, giving away or swapping spare bits with friends and neighbours.
Buy herb seeds
---
Oregano

is another really easy to grow herb. Put it in a sunny spot and it almost can't help itself to grow which is always an admirable quality in a plant that you intend to cut bits off on a regular basis. I love oregano leaves in a mixed green salad along with a generous helping of basil. I'm not a great fan of frilly, bitter, funny coloured lettuces in a green salad, but these two leaves with spinach, or watercress leaves or even a traditional (not iceberg) lettuce and a nice dressing and I'm as close to going vegetarian as I'm likely to get.
Later in the summer oregano produces masses of pretty pink flowers that are adored by bees and butterflies, so as far as I'm concerned it's a star plant.
Buy herb seeds
Positioning herbs
Herbs produce the substances that give them their tastes and flavours chiefly as a defence against insects and other pests. It requires energy to produce these substances, and that energy comes from sunlight. So herbs generally do better in full sun as they have more spare energy to go into the production of their delicious flavours and produce more of them. Likewise, though many herbs will continue to grow through the year if given shelter and warmth, their best flavours are produced when they have maximum light.