Trees and Other Plants
January / June interest

One of the nicest gifts you can give for a birth, wedding or other anniversary is a tree or shrub that will flower or "do its thing" at the time of the event each year.
For an unusual way to celebrate a special event - wedding, birth, anniversary etc. or even as a memorial, little really beats a tree or shrub planted especially for the event.

To go one step further, choose a plant that does its "thing" at the time of the event. Here's a list of suggested trees, shrubs and climbers that should be looking their best (or the best in the garden at that time in the case of the winter months) for each of the months of the year. Those suggested are chosen also because they are reasonably undemanding and grow to a reasonable size for the average or small garden. Many fine larger trees are available of course, but I am deliberately confining myself to smaller specimens here.

Please bear in mind that the given months are approximate and vary a little between different parts of the country and from year to year depending on the climatic conditions.

This is one of the occasions where it may be an advantage to go plant shopping in precisely the month you want the plant for, so that you can see what it's doing.
If you only have room for a single tree, fruit trees are an excellent choice for shape, size, blossom and fruit. more
T - Tree C - Climber S - Shrub
---
Winter interest. Bark or evergreen foliage

Most prominent mainly from around November when the leaves fall off until March when they start growing again.

Acer capillipes - snake bark maple. T

Deciduous tree grown for the winter colour of the bark which is green with white or pale marking that snake up the trunk and the branches. Red winter shoots which add to the decorative effect. Suitable for most situations. Spreading habit to 30ft by 20ft eventually.
Buy Acer / snake bark maple

Acer griseum - paper bark maple. T

Slow growing spreading tree with red-brown to orange bark that flakes off in paper thin sheets giving an attractive shaggy effect especially during the winter months. Bright autumn foliage colour too. Suitable for most situations. Spreading habit to 30ft by 20ft eventually.
Buy Acer / paper bark maple

The birches are admirable trees for small gardens, some types can grow tall (eventually to 50ft or more), but they tend not to spread very far and have an open canopy that gives a dappled shade, a lovely effect. They need an open sunny situation.

The native silver birch Betula pendula is a popular choice, but the bark is rather rough and splits with dark patches forming with age, go for named cultivars such as "Dalicarlica" / "Laciniata" or "tristis" if you can find them. I prefer the Himalayan birch, Betula utilis "jacquemontii" (usually sold as Betula jacquemontii) or the paper birch, Betula papyrifera. Both have a smoother, brighter bark than the native species and are fairly easy to find.

If you have more space, birches can be planted as a triangular group of 3 about 3 feet apart. You tend to get a similar sized canopy as if a single tree was on its own, but 3 times the trunks and bark which is the main feature.
Buy Betula / Birch

Corylus avellana "contorta" - corkscrew hazel. T

A variety of the native hazel tree with strongly twisted shoots that are particularly effective in winter and frequently seen in flower arrangements. To 20ft by 20ft.
Buy Corylus / corkscrew hazel
or try here

Ilex aquifolium "Ferox argentea" - hedgehog holly. T/S

An unusual variegated holly - green leaves edged with cream - that has spines on the surface of the leaves as well as around the edges. Slow growing, colours best in a sunny position. Eventually gets to 25ft high by 12ft wide, but easily trimmed to less.
Buy hedgehog holly

Prunus serrula. T (sometimes also called P. tibetica).

Deciduous tree with peeling mahogany coloured bark that extends along all branches and shines like it's just been polished. Flowers in the spring as a bonus and the leaves turn yellow in autumn before falling off. One of the best trees for winter bark colour. Grows to 30ft high and wide.
Buy Prunus serrula / tibetica

Little active growth. Features that are most prominent at this time of year are evergreens, and plants grown for their bark colouration.
Chaenomeles - Ornamental or Japanese quince. S

Masses of beautiful red to pale pink flowers depending on variety borne on bare stems when much of the rest of the garden is still dormant. Benefit from being grown up against a wall or fence where they can be kept in control easily and cover a large boring area. Unfussy about location, grow a Clematis or Nasturtiums through them in the summer months. 6 to 10ft high and wide, easily trimmed.
Buy Chaenomeles
Hamamelis - witch hazel. S/T

Large deciduous shrub with fragrant frost-resistant spidery flowers in winter that are yellow or shades of orange depending on variety. Produces brilliant golden yellow autumn foliage as well, which looks good if underplanted with purple autumn crocuses, Colchicum speciosum (only available in late summer and need to planted immediately). Best in full sun, not keen on an exposed site. To 12ft high and wide, 5ft high and wide for Hamamelis x intermedia pallida.
Buy Hamamelis / witch hazel | Hamamelis Arnold Promise | Hamamelis Jelena
Little active growth. Features that are most prominent at this time of year are evergreens, and plants grown for their bark colouration. winter interest
Salix caprea "Kilmarnock" - Kilmarnock willow. T
A small weeping willow tree that grows no higher than the graft union, usually at around 5 or 6ft and then falls down from this spreading the same amount. Covered in decorative catkins in February and much safer than the other drain-cracking giants of the Genus.
1/2 standard Kilmarnock willow
full standard Kilmarnock willow
or try here
March
Spring Flowering Cherries T
Ornamental cherries are unfussy about soil, but prefer a sunny position. To 30ft by 30ft eventually.
Buy Prunus / ornamental cherry
Prunus dulcis - common almond. T
Grown in this country for its spring blossom of large white or pink flowers each about 2" (5cm) across. To 25ft x 25ft.
Viburnum x burkwoodii. S
Evergreen hardy and resilient shrub that produces domed heads about 3-4" across of small tubular fragrant white flowers, to 8ft x 8ft. "Anne Russell" is a named variety that is more compact at about 5ft x 5ft and deciduous. Unfussy about position.
Buy Viburnum burkwoodii
Amelanchier lamarckii - Shadbush. S/ T
Large shrub or small tree. Deciduous, leaves open bronze against which there are masses of small white star shaped flowers. The leaves turn darker green as the season progresses ending in an autumn show of fiery reds and oranges. To 30ft x 30ft but easily kept in check and frequently seen in small gardens. Unfussy about position.
Buy Amelanchier lamarckii
Malus various - Crab-apples. T
These can be planted for spring or autumn interest as they have spring blossom that rivals ornamental cherries followed ornamental fruit later in the year. Whether you see this fruit as an advantage or disadvantage depends on your perspective, but I think they are one of the best small trees available for any garden. The flowers are usually single and large and frequently beautifully scented.
Buy Malus / crab apples
Recommended; "Golden Hornet", "John Downie", "Red Jade", "Evereste", Malus x robusta "Red Sentinel". To 30ft x 30ft, they don't cast a deep shade and so can easily be underplanted. M. toringo ssp. sargentii is another excellent variety that only grows 12ft tall, spring blossom and then cherry-like scarlet fruits in the autumn.
Prunus various. - Ornamental cherries. T
Masses of blossom in spring and some have good autumn colour too. If only planting one tree, I'd go for a Malus (crabapple) instead, but there are those who see the lack of autumn fruit an advantage of the ornamental cherry. Tend to be a bit hardier than Malus - the crab-apples, but rather short lived, 20 or 30 years.
Recommended; "Pandora", shell pink flowers, "snowgoose" and "umineko", white flowers. P. sargentii
Buy Prunus / ornamental cherry
Crataegus oxycantha - "Paul's scarlet". T
A cultivated variety of hawthorn with masses of double scarlet flowers in May. Spiky like all hawthorns, but an excellently shaped small specimen tree if you don't think the flowers are a bit too much, a wonderful sight in full flower nevertheless. To about 20ft by 15ft.
Buy Crateagus Paul's Scarlet
Prunus "Tai haku" - Great white cherry. T
A magnificent variety of ornamental cherry and easily the best for my money (yes I am biased). Covered in single white flowers up to 2" across that somehow always appear to catch the light and glow whichever direction the light is really coming from, flowers in the early part of the month. Spreading habit, to 25ft x 25ft.
Sorbus aria "Lutescens" - Whitebeam. T
This is a really beautiful understated deciduous tree. The new leaves are what make it special, they open a wonderful lime green on top with a silvery-white underside. There are white flowers too, but these pale in impact besides the leaves. The leaves get darker as the season progresses, but are always paler beneath so the tree seems to shimmer when the wind catches it. Unfussy about soil, better in sun, to 30ft x 25ft.
Buy Sorbus aria
Syringa - Lilac


Strictly speaking perhaps really a shrub and not actually a tree, but sufficiently tree-like for these purposes, grows to about 20ft by 20ft if allowed free-rein, but vigorous and responsive to hard renovative pruning. One of the most wonderfully fragrant plants in the garden. Flowers from May to June depending on position.
The main thing to be aware of is that lilacs flower on wood that is at least a year old, so if you prune hard then there is likely to be at least one flower-free year.
Comes in a range of colours from white through pinks and blues to darker purple, with a pale yellow and of course the original lilac colour - to my mind the only one to have. Most garden cultivars are varieties of Syringa vulgaris. Many available equally good, these recommended; "Katherine Havermayer" - lilac, "Charles Joly" - dark purple, "Mme. Lemoine" - white.
Buy Syringia / Lilac to buy
Wisteria. C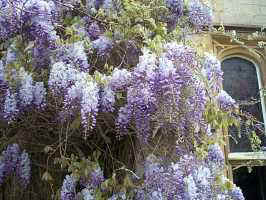 These are the most magnificent of temperate climbing plants and a "must have" as far as I'm concerned in any garden. A deciduous climber that flowers spectacularly in May on a gnarled and twisted framework of old branches before the leaves come out fully. Long pendant racemes of fragrant pea-like flowers in shades of blue to blue-purple ( white varieties are also available though I tend to think beg the question - "why?"). Can be grown as a (widely spreading) standard rather than up a wall if given a strong upright support during its early years.
Buy Wisteria | Buy Wisteria 2
Laburnum vossii. T
A well known and fairly common small tree grown for its large clusters of golden yellow flowers up to 40cm long. Lives up to about 30 years and grows to 20ft tall and 15ft wide. A good shape for a small garden, mainly upright and all above head height once grown up. The seeds in the pods (it is a relative of peas and beans) are highly poisonous and can be fatal if swallowed in any quantity. Sometimes known as false ebony on account of it's very hard wood.
Buy Laburnum
Philadelphus - Mock Orange S
A deciduous shrub that produces masses of fragrant white flowers. Fully hardy and may be grown as a specimen or in a shrub or even woodland border. Recommended "Virginal" double flowers and particularly fragrant. To 10ft tall by 8ft wide, but easily trimmed and fairly quick to recover.
Buy Philadelphus / mock orange
Roses, various varieties. S
Roses can be very long-lived and in recent years, varieties have been named with an eye on the "celebration purchase" hence we have "Wedding Day", "Silver Wedding", "Golden Wedding" and others, there are also other varieties that have peoples names that might be appropriate, particularly girls names "Grace", "Meg" and "Penelope" are ones that come to mind (it's probably not worth the effort of looking for a "Malcolm" or "Arthur" though - however there is a "Sexy Rexy" if this is appropriate). If planting as a celebration then I suggest one of the larger species roses, bush or climber, rather than a hybrid tea as they are more resilient and need less looking after. Roses of course frequently flower through the summer or at least again in September, so could be used for a celebration through to September.
Buy Roses | Buy Roses 2
Next page, July - Dec and winter interest
Special plants. There's a chance that in your garden, you will have a "special plant". It won't be the most beautiful plant you have it won't be the most admired or "hardworking" in terms of always looking good at a particular time of year. It will be a plant that has a particular memory for you.

Probably my most satisfying moment as a gardener came when I was planting up a new garden for a couple who had recently moved into a new property. Amongst the mess and mud was a small rather battered lilac bush, grabbed at the last moment from the previous house and plonked in a hole in the new garden, apparently neglected but fretted about by the non-gardening owners. It turned out to be "Granddad's Lilac", bought by the father of the lady of the house for the youngest child on her birth. Granddad didn't live much longer after this and his lilac hurriedly rescued, looked to be going the same way.

I had no idea of any of this, but after planting loads of brought in plants, I saw this forlorn, but perfectly sturdy and viable specimen. I planted it in what I thought was the best position by what turned out to be another of Granddad's last projects, a play house for the same granddaughter. I was completely taken aback by the tears and gratitude when they saw what I had done, the lilac thrived and now shelters the play house and provides loads of fragrant flowers every year.

The wonderful thing about plants is that they can be propagated from cuttings. We have a rose bush grown from a cutting of my late mother-in-laws favourite rose from the house where my wife grew up as a child. The next time I go to Nottingham I intend to knock on the door of the house where my grandparents lived when I was a child and ask for a cutting or two from the old hydrangea that my granddad used to love, and that I had the highly responsible task of pruning and deadheading every year.

Some plants help to keep memories alive, and by the fact that they flower and grow as vigorously now as they do in our memories when the person we connect them with was with us and looking at the plant, they open the door to happy memories more so than an inanimate object ever could.

One of the nicest gifts you can give for a birth, wedding or other annual anniversary is a tree or shrub that will flower or "do its thing" at the time of the event each year.